The StormGain platform is available on any device: PC, tablet or smartphone. For mobile devices, you will need to install the app from the Play Market (for Android OS) or the AppStore (for iOS).
Web interface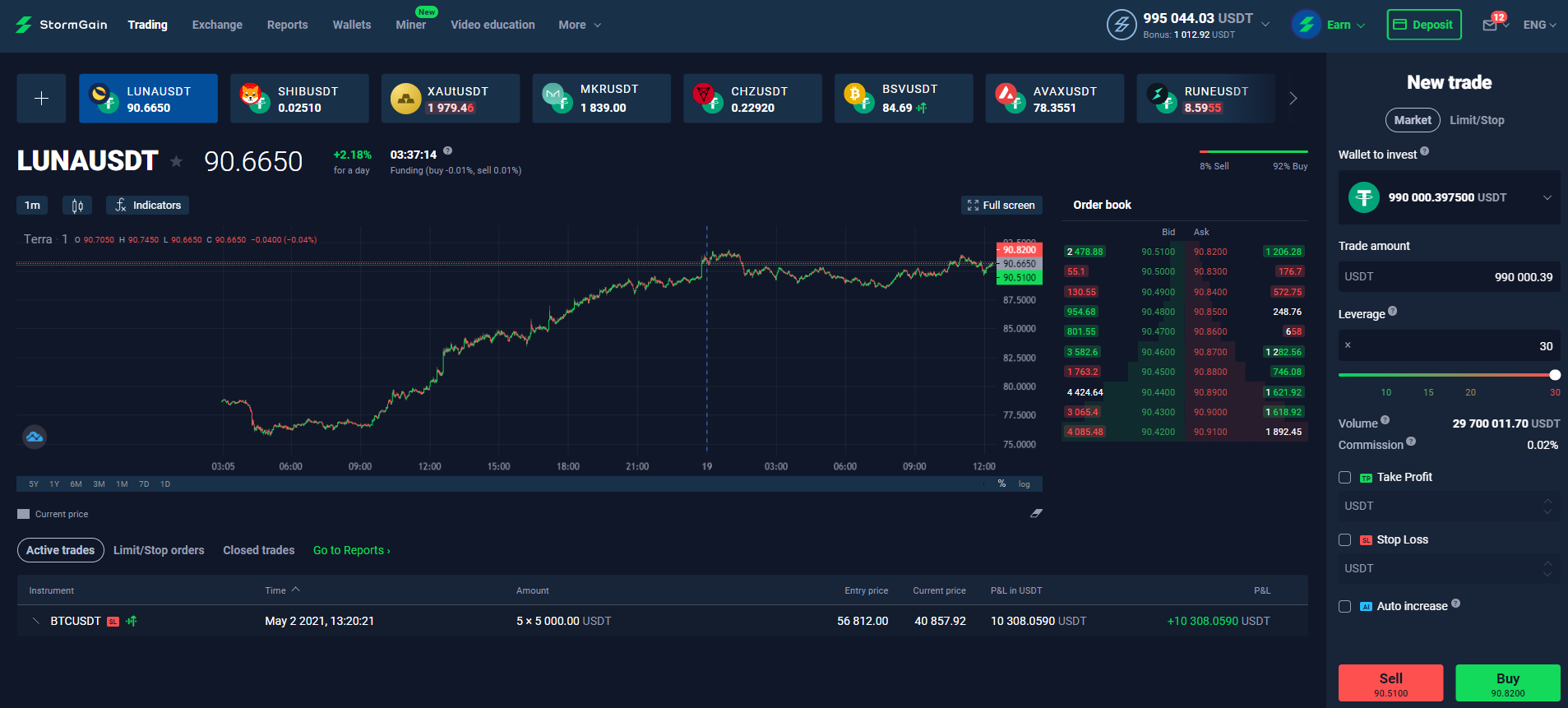 On the web version of the platform, we see the following tabs:
Trading.
Here you can trade supported instruments on margin.
Chart, trade parameters
Click the + button to see all instruments available for margin trading.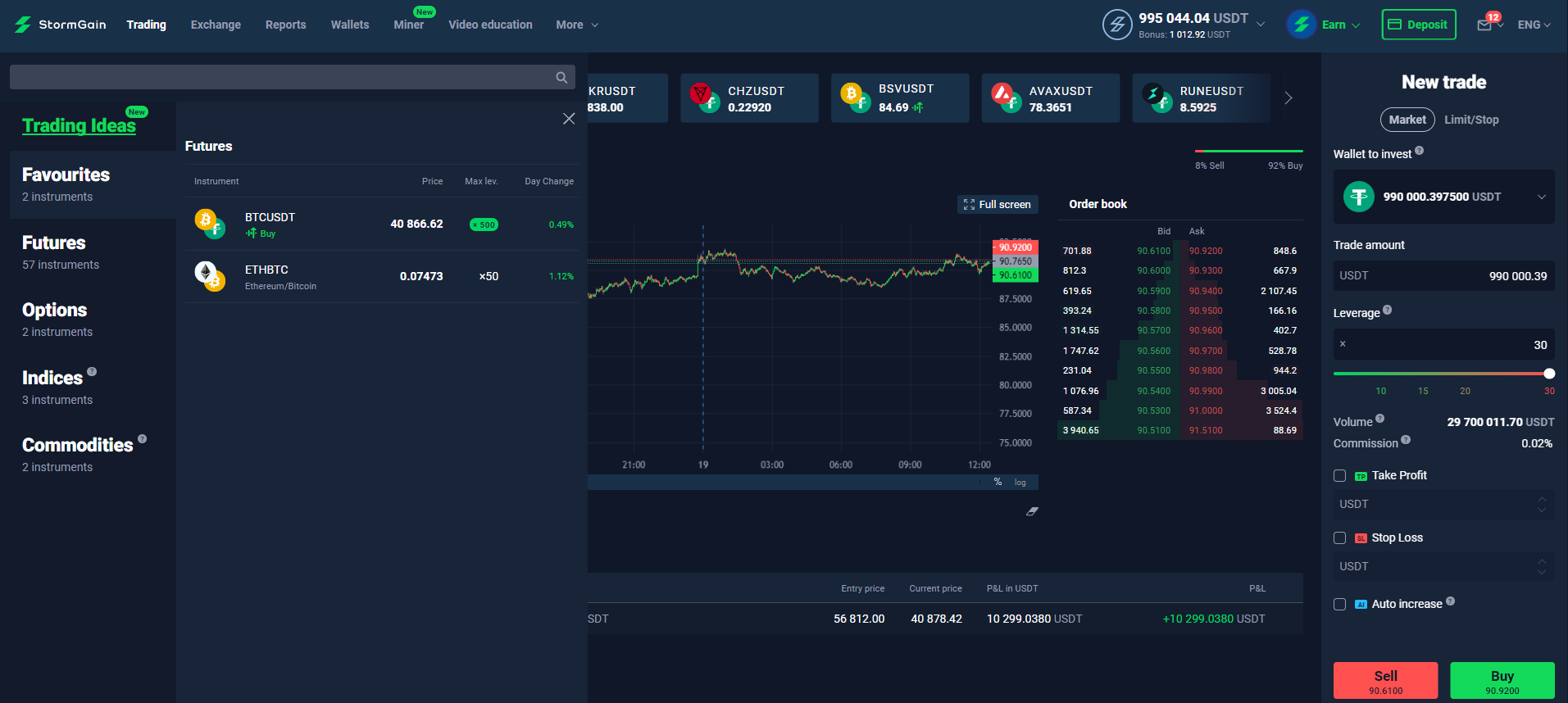 The available trading instruments are arranged by type:
Favourites - this is where all your chosen trading instruments are located;
Futures - cryptocurrency pair futures;
Options;
Indices (a choice of three index types quoted in crypto);
Commodities (gold and silver to USDT).
After selecting the instrument you wish to trade, you will need to set the trade parameters (the trade amount and multiplier are set by default, but you can edit them if you wish)
Exchange
This tab is where one cryptocurrency is exchanged for another.
Reports
This is where information about active and closed positions is provided.
Wallets
This contains a list of all available cryptocurrencies, their current balance and all financial transactions completed on this account.
You can also add funds to your balance and make withdrawals from here.
Miner
Cloud miner - this tab allows you to launch the miner and withdraw funds from the miner to your USDT balance. It is also where you can get your referral link for inviting friends to register with StormGain.
Video lessons - these are video tutorials that teach you bout how the platform works and about trading in general.
Also:
Balance - your current balance.
Switching between real and demo accounts.
Deposit funds - button for opening the "Fund your account" tab.
PROFILE_MANAGEMENT

Account status and Loyalty Programme: this is where you can track the progress of your trading turnover and change your account status.
Account number and login (email address used to register account);
Profile and settings - manage your personal data and passwords, activate or disable two-factor authentication;
Notifications;
Choice of language interface.
More - the "More" tab: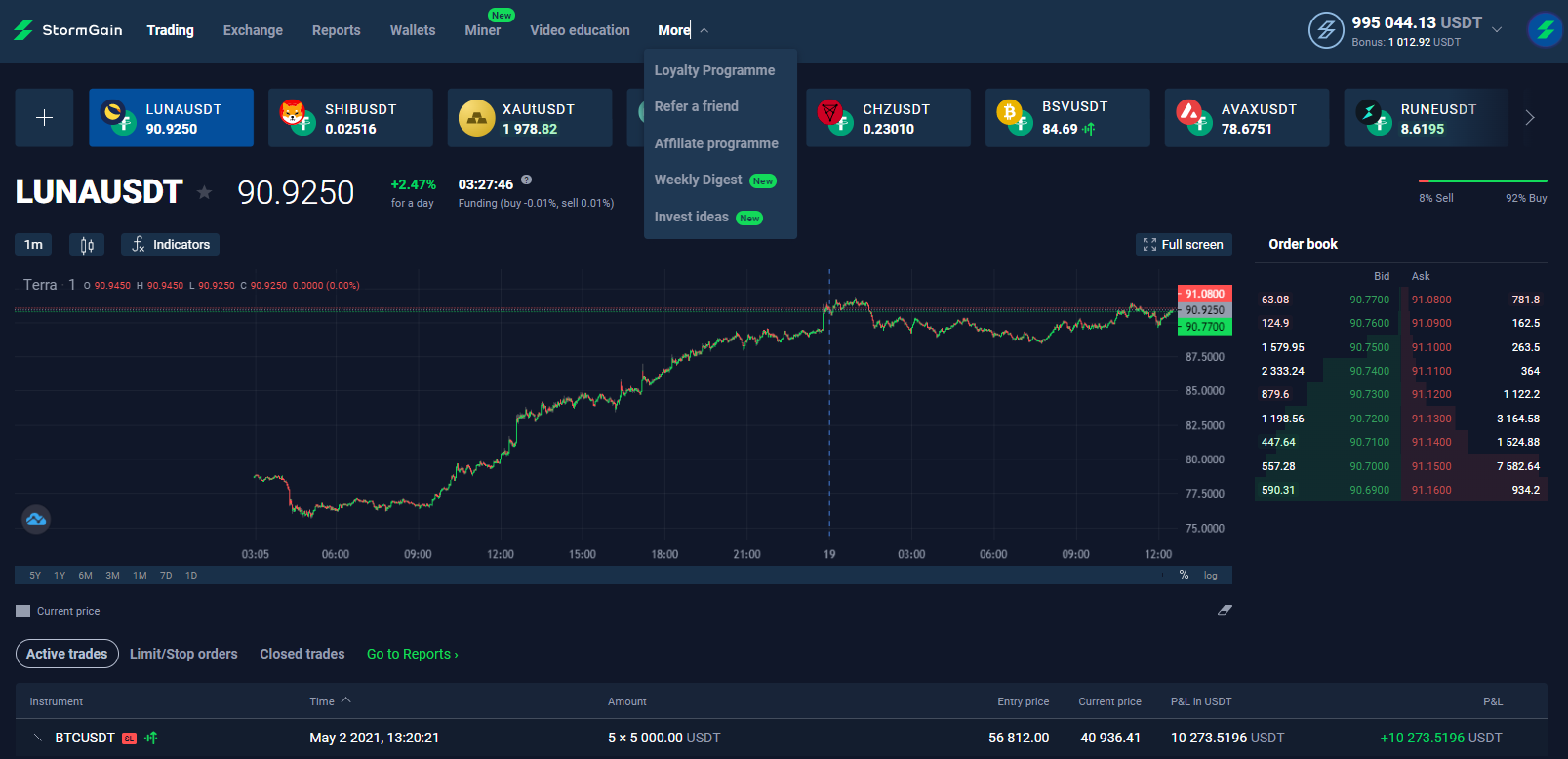 Loyalty programme - takes you to the "Loyalty programme" tab;
Refer a friend - the "Refer a friend" tab is where you will see your referrals - users who have registered using your referral link;
You can copy your referral link here to invite new users to the platform.
Affiliate program - this is our Partner/Affiliate programme;
Weekly digest - News.
Mobile application interface
When you open the mobile application, the first thing you'll see is the miner.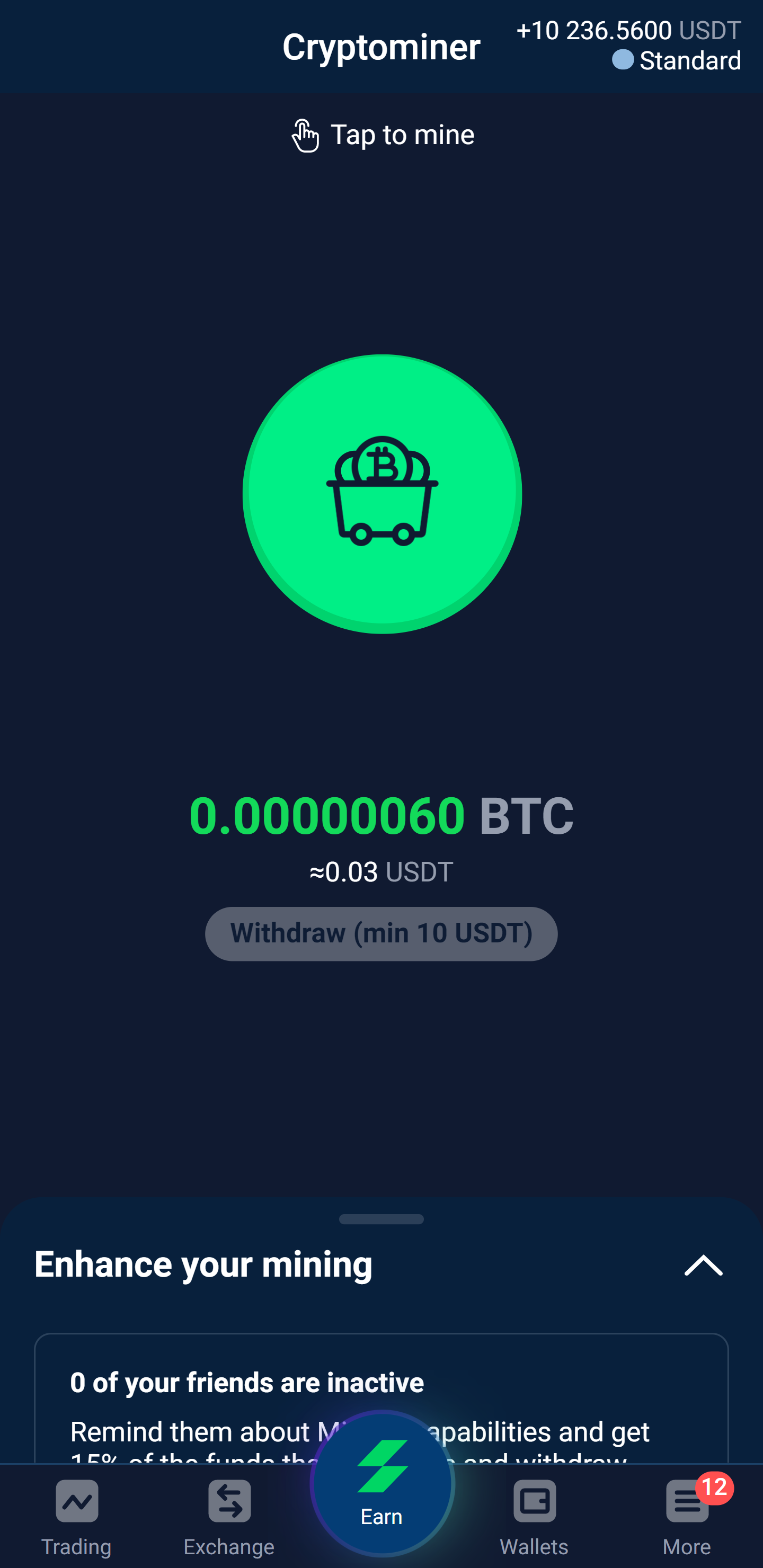 The button for switching between tabs in the mobile app can be found at the bottom of the screen.
All available trading instruments can be found in the Trading tab. This is where you can select the instrument you wish to trade and set your desired parameters. The "Trading" tab also contains a log of all your active and closed trades.
The trading instruments are arranged by categories:
All instruments;
Favourites;
Trading ideas - Trading ideas are a tool that enable you to use current market data to open several simultaneous trades
Commodities;
Options;
With signals - a selection of instruments that have up-to-date trading signals attached to them;
Top rising - biggest gainers;
Top falling - biggest losers;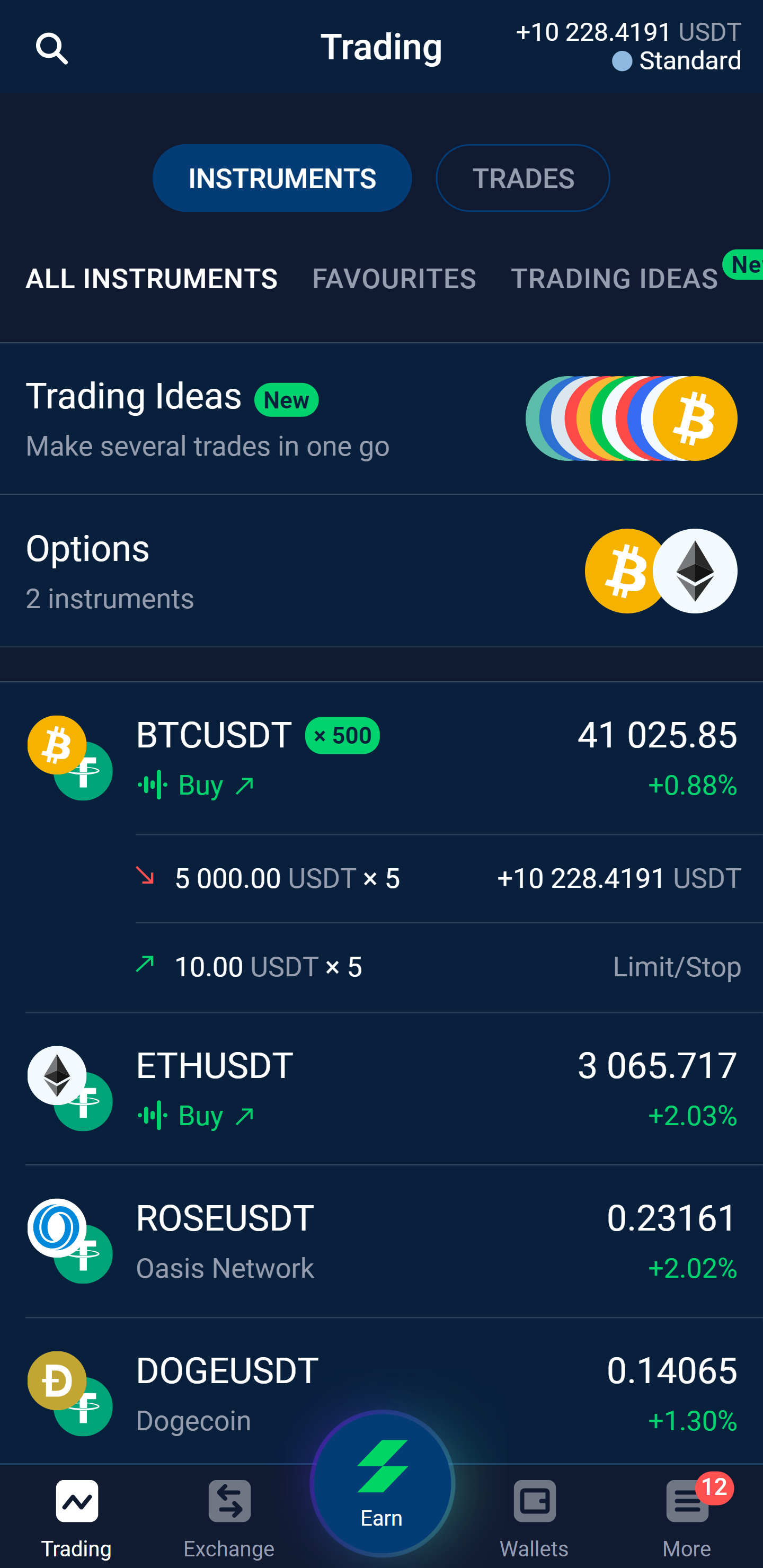 Exchange - this is where you can exchange one cryptocurrency for another.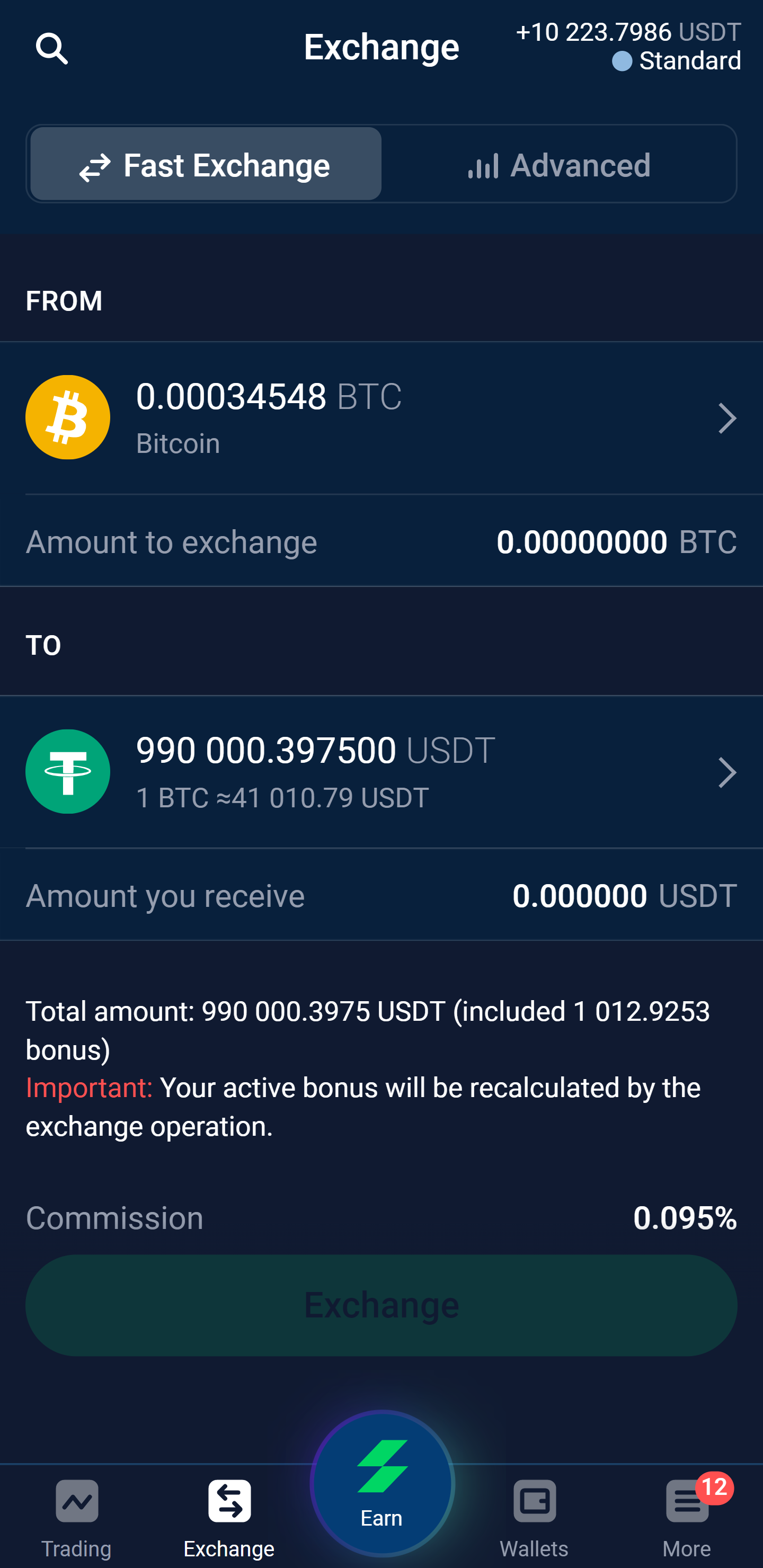 Wallets - this tab contains the balance of all your available wallets, funds deposits and withdrawals, tracking of your balance movements.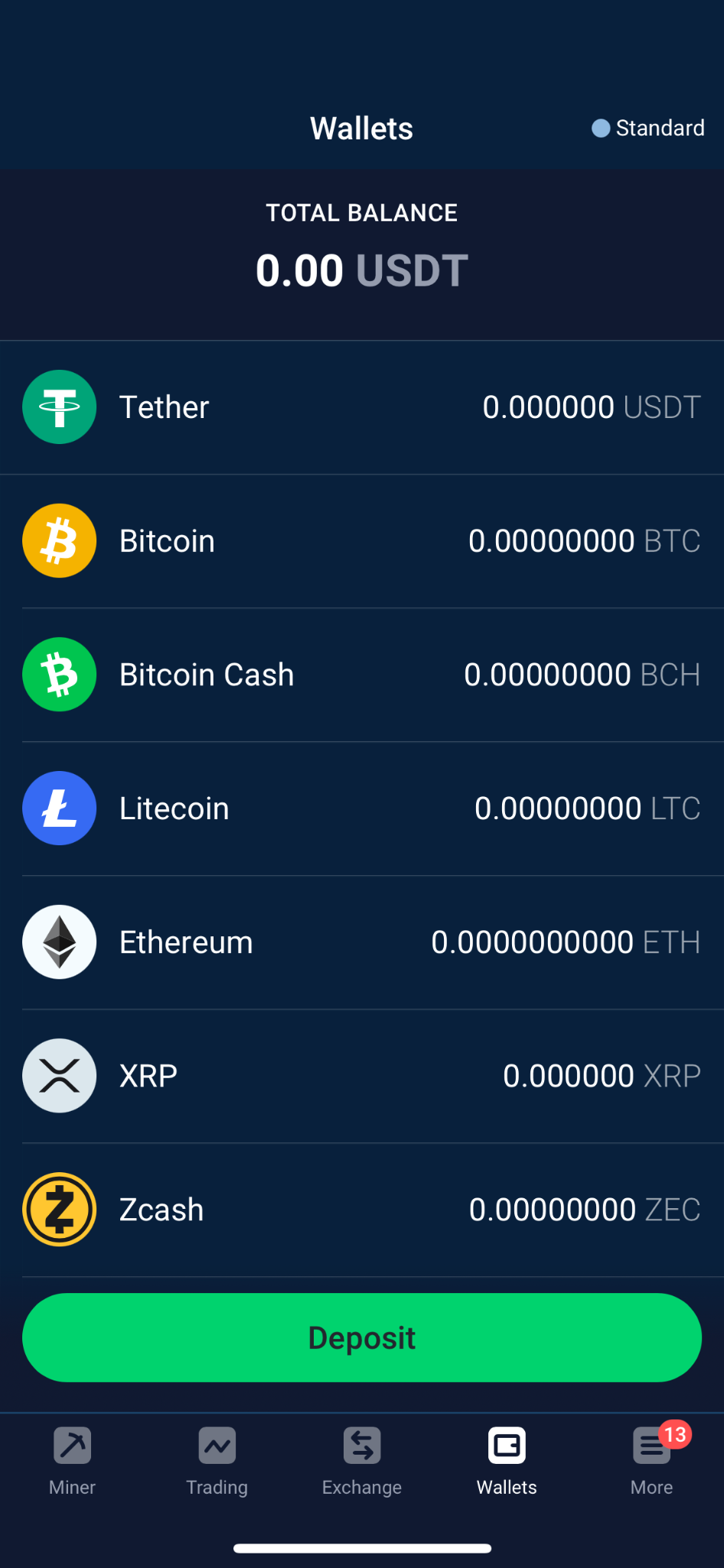 More:
PROFILE_MANAGEMENT
Loyalty programme - trading volume progress and up-to-date account status
Switch to demo account
Refer a friend - this is our referral programme
Notifications - this tab allows you to turn on notifications
Security - this tab is where you can activate and disable two-factor authentication
Reports - this contains a log of all trading and exchange transactions
Fees and limits - this tab shows your commission fees and profit/loss limits
Help and support - this is our help and support portal, with a feedback form that enables to you inform us of any issues.